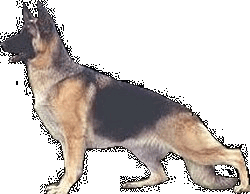 Rob and I at SunReh German Shepherds breed for temperament, type, structure and longevity in the breed. We do not have litters all that often, a very small breeder. We also believe that all puppies should be sold with a lifetime guarantee against all hereditary diseases, and we offer a contract for this.

We try to breed for the "Total" German Shepherd. We are also members of the German Shepherd Dog Club of America and The German Shepherd Dog Club of the Pacific Northwest. We will stand behind any dog that we sell. Currently, we have dogs sold to Mexico and Michigan from our first litter.

So, please contact us at anytime regarding new litters. Also, don't forget to visit the artistic page of


"Captured" Portraits in Pencil.
So many new portraits are added! Now below, we offer you a look at some of our upcoming stars!

| | |
| --- | --- |
| | Ken-Delaine's Cressida...at last! |
| | Ken-Delaine's Renita |
| | Hunde Haus' Detroit Diesel, CD, CGC, OFA |
| | SunReh's Redrum Shining |
| | SunReh's Izadorable in Red |
| | SunReh's Red Sun Rising (Sold) |
| | Hickory Hills Toohardto Hold |


...and a tribute to Hickory Hills Toohardto Hold
"There were seven spanish angels at the altar of the Sun,
They were praying for the lovers in the valley of the gun,
When the fighting stopped and the smoke cleared,
There was thunder from the throne,
And Seven Spanish Angels took another angel home"
Below, sites I have built!

| | |
| --- | --- |
| | Ken-Delaine Shepherds |
| | Detmer German Shepherds |
| | NewCastle German Shepherds |
| | Legend German Shepherds |
| | Geyer's Garten Cards and Books |
| | The Ballet Studio |



This GermanShepherd@Onelist.com Web Ring Site belongs to SunReh German Shepherds

Copywright © 1998,1999 Suzanne Cartwright